Background
Son of Naliah, queen of the amphibian people of Aquanis, and some random sailor (Smokey Cr's name has been mentioned), on coming of age Numar decided to explore the world above the sea to see if it was really how it looked on his favorite TV show. Panic breaks out on Clint Beach! But after a few difficulties in fitting in, he's now of course decided to join the Ulu Watu.
Advantages & Disadvantages
Advantages:
His base power is 8, which is good for a 4*.
His ability gives you back two life if you win with him.
His ability helps to create a gap between you and your opponent.
SoB doesn't hurt him much since his base power is already high.
The clan bonus gives him an extra two power, making him a potential 10/4.
Disadvantages:
His base damage is 4, which is low for a 4*.
He is weak against SoA, since he cannot increase your life, and must contend with his low base damage.
He is weak against damage reduction.
He is a 4*, so he takes up room in your deck.
He has competition from the other 4* in Ulu Watu.
Trivia
Numar's half-breed upbringing is a nod to the superhero, Aquaman.
Numar was originally supposed to be a three star card, but was changed before his release.
His name is a reference to the Marvel character, Namor the Submariner. Both had a random sailor for a father, while their mother was the ruler of the underwater city.
He could also be a nod to the Sea's Sir from Gormiti.
Card Artwork
LV 4.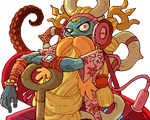 Full Artwork
Community content is available under
CC-BY-SA
unless otherwise noted.