Background
Ombre is a powerful and cruel magician who came to Clint City to kill Marlysa. Realizing he'd need help, he joined Nightmare, but he's planning on betraying the clan at the first opportunity. (Ombre is a character from the graphic novel "Marlysa", Soleil publishing. (C) MC Productions, Gaudin, Danard)
Advantages & Disadvantages
Advantages:
This card has solid base stats of 7/5, which are pretty good for a 4*. The 5 Damage can help with a 2HKO combo or a card like Karrion.
Disadvantages:
He has a lot of competition from other 4* Nightmare cards.
His lack of Ability and only decent stats as well as his very high price make him a card only for the collectors.
Trivia
His name comes from the Italian and French word 'ombre', which means shadows.
Card Artwork
LV 3.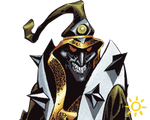 LV 4.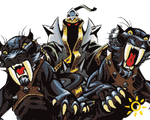 Full Artwork
Useful Links
Community content is available under
CC-BY-SA
unless otherwise noted.