Background
His warm and sensual voice, devastating smile, perfectly coiffured hair and suits to die for are the keys to Oscar's success and explain why he always takes centre stage at the Borgia Palace parties and clan weddings.
Missions
Triumphant Round: Win 80 rounds with Oscar
Farewell Beating: 120 damage with Oscar
Stage Companion: Win 20 rounds with Oscar (07/01/2011 - 06/02/2011)
Advantages & Disadvantages
Advantages:
Disadvantages:
Strategy
Put 4 pillz in Oscar (in mono Montana only) and you will have 45 with the activated power and without potency modifiers against or in favor (1+4 = 5x9=45) of attack and if the bonus is active -12 of minimum attack of 8 that and as if he had 57 of final attack. Very good for beginning the round. Very good to help to give kos with cards of the clan that total 8 of damages like Avola (only in mono deck do they make a great couple) , Griezzo , Don , etc and sometimes with fury cards like of 6 of damages Fabio , Aniki , Jimmy etc.
Quotes
Trivia
Card Artwork
Full Artwork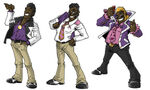 External links
Community content is available under
CC-BY-SA
unless otherwise noted.