Background
Easy-going Owen showed up in Clint City as part of a partnership program between the Clint City Police and the Isle of Brithania. After a brief settling-in period, Owen quickly adjusted to the rhythm of Clint City and decided to join the Sentinel.
Advantages & Disadvantages
Advantages:
His base power is 7, which is good for a 5*.
His ability removes four life from your opponent.
The minimum for his ability is two, which is low.
If you combine his damage with his ability, you can remove up to nine life from your opponent.
He makes a good bluff against your opponent.
He is good against damage reducers, since he can rely on his ability.
The clan bonus gives him an extra 8 attack, which helps in low-pill fights.
Disadvantages:
His base damage is 5, which is low for a 5*.
His main weakness are cards, like: Yookie, Bristone and Yayoi Cr, who not only reduce his damage, but also cancel out his ability.
He is a 5*, so he takes up a lot of room in your deck.
He has competition from the other 5* in Sentinel.
Strategy
Trivia
Card Artwork
LV 5.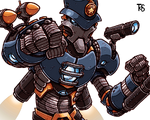 Full Artwork
LV 5.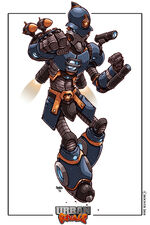 External links
Community content is available under
CC-BY-SA
unless otherwise noted.