Background
Since Oyoh was a year old, judo has been his life. At nursery, when the other babies were still learning how to walk, Oyoh was learning how to break feeding bottles with a single blow. As he grew up he learned to break much more...
Web comic
This card hasn't appeared in a web comic yet.
Missions
None at the moment.
Advantages and Disadvantages
Advantages:
His base power is 7, which is good for a 5*.
His base damage is also 7, which is good.
He has no ability, so he doesn't have to worry about cards with SoA.
SoB doesn't really hurt him, since his stats are still good.
The clan bonus reduces an opponent's power by two, which helps in low-pill fights.
Disadvantages:
He has no ability to aid him in a fight.
He is a 5*, so he takes up a lot of room in your deck.
He has competition from the other 5* in All-Stars.
Trivia
His stance in the second pic is more like a karate stance, and the kick in the fourth pic looks like taekwondo, which makes him a mixed martial artist. Also, breaking stuff (tameshiwari) is not a part of judo practice.
Card Artwork
LV 5.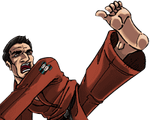 Full Artwork
LV 5.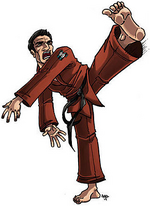 Useful links
Community content is available under
CC-BY-SA
unless otherwise noted.