Background
Petra turned up at the Sakrohm temple one day saying that Glibon Dashra Sakrh had contacted her directly on her cell phone asking her to be his new high priestess. Not sure what to make of her story, the clan members have invited her to make herself at home at the temple…
Mission
Intergalactic High Priestess: Inflict 200 Damage with Petra
Advantages & Disadvantages
Advantages:
Her power is 7 which is good.
Her damage is 5, which can become 7 with fury allowing for a possible 2HKO.
Her ability stops your opponent's bonus, which can be very helpful.
Her bonus reduces the opponent's attack by 8, which is good in low-pill fights.
Disadvantages:
Her ability is useless against Roots and Ghiest, and cards that don't have any bonus.
She is a 4*, so she takes up room in your deck.
Trivia
Card Artwork
LV 4.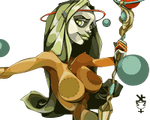 Full Artwork
External links
Community content is available under
CC-BY-SA
unless otherwise noted.