Background
Welcomed by the Sakrohms as the Angora messenger from the Red-Melba-Bigue star system, while seen by others as a simple runaway prisoner from the 588 Zone, Phonos plays a double game. On the one hand, he teaches the art of joviality through the use of the Sakric index, while on the other, he smoothly eradicates the Aliens that have infiltrated planet Earth...
Missions
Advantages & Disadvantages
Advantages:
He has a power of 7, which is good.
His ability makes his damage equal to his opponent's.
His bonus removes 8 attack from his opponent.
His ability goes into affect at level 2, which is rare.
Disadvantages:
His base damage is 2, which is very low for a 5 star.
SOA hurts gim greatly.
He's a 5*, so he takes up a lot of room in your deck.
Trivia
Phonos' final pic (shown in the stats) is based off the movie, Men in Black, since he wears the same suit and uses a similar gun while the red flash on his finger could be the replacement of the Neuralyzer.
He might be based off of E.T.
His name is an amalgam of the words 'Phobos', one of the moons of Mars, and 'Phone', as E.T. who he is based off of, often says 'Phone home'.
He is one of the few cards that has his ability at his first level.
His level four artwork is based off of G-Man, a character from the Half-Life games.
The fannon answer for his departure was due to IronJaw getting his revenge on him (for getting him arrested), and blows the alien's cover. Because of this, Phonos decides to pursue a new assignment and has to leave.
Card Artwork
LV 5.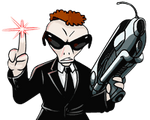 Full Artwork
LV 5.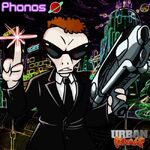 Community content is available under
CC-BY-SA
unless otherwise noted.