Background
Phyllis, the eternal romantic, likes nothing better than great love stories and lavish weddings. And as she operates on the basis that if you want something done it's better to do it yourself, she sets about using her love filters to create ready made couples who would never have got together otherwise and who generally split up amid a storm of tears and shouting once the wedding's over.
Advantages & Disadvantages
Advantages:
Disadvantages:
Webcomic
Phyllis has a small apperance in "Dominion" where she helps Ielena performa ritual that brings a new line of toys to life; creating the Dominion clan.
Trivia
Her name are based off of Phyllis, a character from the Greek mythology.
Card Artwork
LV 1.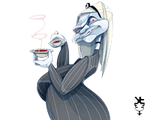 LV 2.
Full Artwork
Community content is available under
CC-BY-SA
unless otherwise noted.