Background
Although hard to believe, Raeth's sinister melodies are often far more effective than either Smokey's cannon or Sting's rifle. With his music he's able to communicate with rats hiding in the holds of enemy vessels and then turn them on the boat's occupants.
Advantages & Disadvantages
Advantages:
Disadvantages:
Trivia
Raeth is based off the fairy tale character, The Pied Piper of Hamelin.
Raeth's name sounds similar to wraith which is said to be the spirit of a person who cannot go to heaven or hell but is doomed to wander the earth.
"Raeth" can also mean "Rat", if you take out the e and h.
Card Artwork
LV 4.
Full Artwork
LV 4.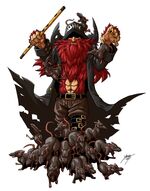 External links