Background
Within La Junta, it's said that when Ray does push-ups, he doesn't lift himself up but rather pushes the floor down. That's perhaps a bit of an exaggeration but not that much. Since he's been patrolling the Northern Mountains, the evil creatures that used to come that way to get into town now prefer to make a huge detour rather than come face to face with this lone officer of justice.
Missions
Advantages & Disadvantages
Advantages:
Disadvantages:
Trivia
Ray is based off actor and martial artist, Chuck Norris, (whose middle name is also Ray). The "floor pushes down" comment is from a series of jokes about how badass Chuck Norris is.
The game's Facebook page stated the possibility of an event where Ray and Lee Long would fight each other. This references the real life rivalry of Chuck Norris and Bruce Lee.
Card Artwork
LV 5.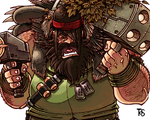 Full Artwork