Background
Pirates are generally a bunch of ill-mannered yobs but the Piranas take it one step further. Yet, ever since she was little, all Rhed ever wanted was to join the crew of the fearsome Captain Bloodh. So she disguised herself as a man to be taken on, and only revealed her true identity once she'd proved herself as an indisputable member of the team.
Involvement
Strategy
Rhed is a good 3* card, but people choose Smokey or Tyd instead. So there is no space left for this girl in a piranas half deck. She can be used in mono decks instead. Her 6 power doesn't make a lot of trouble, but if she gets through, she can make a 6 life difference between you and you opponent.
Quotes
Trivia
Rhed's name comes from the word, red, which is the same color as her hair.
Rhed is based off the famous pirate, Mary Read, who also disguised herself as a man.
The reason for her leaving and becoming Cr was due to amassing so much treasure that she will never want anything again and went into early retirement.
She is the second Piranas to go Cr. The first being Smokey.
She could be based off of Mulan, a Chinese woman who disguised herself as a man to take her father's place in the army.
The reason she disguised herself as a man is based on pirate beliefs of women being bad omens while on board.
Card Artwork
Full Artwork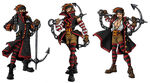 External links
Community content is available under
CC-BY-SA
unless otherwise noted.