Background
It's not always easy being a rhinoceros-man! Rhyno knows full well that despite his gentlemanly ways, most people just see him as some kind of circus act. But fortunately for him the Freaks are not ones to pass judgment. After a fight with the GHEIST, Scotty himself suggested he join the Jungo but Rhyno flatly refused, shouting, "I'm a man, not an animal!"
Web comic
This card hasn't appeared in a web comic yet.
Missions
Rhinoceros Man: Inflict 150 Damages with Rhyno
Advantages and Disadvantages
Advantages:
His base power is 7, which is good for a 5*.
His base damage is also 7, which is good.
His ability takes away five damage from your opponent, which helps in case you in danger of being KO'ed.
The minimum for his ability is three, which is low.
The clan bonus takes away two life from your opponent, after each round.
Disadvantages:
SoA takes away his ability, which lessens his value a bit.
He is a 5*, so he takes up a lot of room in your deck.
He has competition from the other 5* in Freaks.
Tactics
Trivia
He is most likely a homage to Joseph Merrick, better known as "The Elephant Man".
His quote at the end of his bio is a nod to the famous line, "I am not an animal. I am a human being.", from the film, The Elephant Man.
His final level is based off of Spider-Man villain, Rhino.
Card Artwork
LV 5.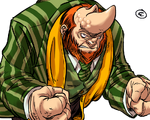 Full Artwork
Useful links
Community content is available under
CC-BY-SA
unless otherwise noted.