Background
Nasty, vicious and violent, Rolph was prepared to do anything to become the boxing world champion, including forming a pact with the GHEIST. And now, thanks to Vryer's scientific know-how, Rolph is finally ready to take on Hammer but he's got a nasty feeling his teacher hasn't told him the whole story and that strange changes are taking place that he didn't exactly sign up to...
Web comic
He appears in his second level as one of the GHEIST who came to get Sigmund's capsule in the comic, Assault Under Clint River, along with other members.
Missions
Power Breaker 2: Win 100 rounds with Rolph
Advantages and Disadvantages of the card
Advantages:
His base power is 7, which is good for a 5*.
His base damage is 6, which is also good.
His ability removes two power from an opposing card, which helps in low-pill fights.
The minimum for his ability is 4, which is low.
Because of his high power, he almost always wins when facing a card pill-to-pill.
The GHEIST bonus means that it doesn't have to worry about abilities apart from Nightmare, Piranas and Skeelz cards.
He gets his ability at level four, so he is usable then.
Disadvantages:
He is a 5*, so he takes up a lot of room in your deck.
He has competition from the other 5* in GHEIST.
Because of his ability and bonus, he is often ELO banned.
Tactics
He is a beat stick, meaning the only tactic with him is to try and get the damage done.
Trivia
Card Artwork
LV 5.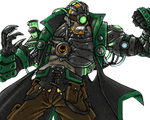 Full Artwork
In order from left to right Level 2, Level 3, level 4 and level 5.
Useful links
Community content is available under
CC-BY-SA
unless otherwise noted.