Background
Gravedigger at Clint City's main cemetery is anything but a restful job, what with all the zombies and other living dead who won't stay put and delight in sabotaging your work on a nightly basis! So every morning Sargh finds himself having to refill holes and show lost zombies back to their graves (zombies do not have good memories). And that's not to mention the nights of the full moon when things really kick off!
Missions
All Zombies Are Gray In the Dark: Win 15 rounds with Sargh (17/02/2012 - 18/03/2012)
Trivia
His name comes from the German word 'Sarg', which means coffin, which fits since he is a gravedigger.
Card Artwork
Full Artwork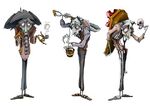 Community content is available under
CC-BY-SA
unless otherwise noted.