Background
Shakra is one of the star attractions of the amazing Freaks Circus, but after an argument with Ataoualpet, he realizes that he really belongs with the Roots and decides to offer his wisdom and sword-swallowing talents to the clan.
Involvement
Strategy
Quotes
Trivia
His Cr announcement: "Meanwhile, Zlatar continues his fight against the Dominion. After having burned a considerable amount of Orfanwood, Valhala finally brings his mad rampage to a stop, armed with Nidory's hammer. As for Shakra, he's headed for the two protagonists, all set to do whatever it takes to stop the destruction of the Roots' neighboring forest. But when the bomb dropping down from the sky enters into contact with the black magic contained in the hammer, a strange reaction is unleashed. Rather than killing Zlatar, Valhala, and Shakra, the explosion transports them to an unknown world: a devastated dimension devoid of all life forms…"
Webcomic
Shakra appeared and played a supporting role in the B-Team saga when he joined as Roots' represetitive for Havok's group when Kiki was kidnapped along with several of the other clan's leaders. Not much was shown of his personality since his role was one of the smallest.
Card Artwork
LV 5.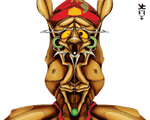 Full Artwork
External links
Community content is available under
CC-BY-SA
unless otherwise noted.