Background
Well before Smokey and Mayhem can set their cannons blazing, Sting is always first in alerting the Piranas' prey of their presence. And much to the frustration of the gunners, sometimes just a few well-aimed shots are all it takes to convince the enemy to hand themselves over without a fight...
Missions
Long-Distance Attack: Win 20 fights by finishing with a knock-out from Sting (actual in July 2014)
Advantages & Disadvantages
Advantages:
Disadvantages:
Strategy
Sting's ability is courage based so you have to use it in when you pick a card first. However, her power is still good without her ability. She can be used for defense or as a bluff, but can also be used to finish an opponent.
Trivia
Card Artwork
LV 4.
Full Artwork
LV 4.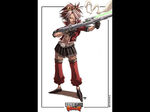 External links
Community content is available under
CC-BY-SA
unless otherwise noted.