<format> Jungo</format>
       </data>
       <data source="ability">
           <label> Ability</label>
           <default>Unknown</default>
       </data>
       <data source="bonus">
           <label> Bonus</label>
           <default>+2 Life</default>
       </data>
       <data source="rarity">
           <label>Rarity</label>
           <default>Unknown</default>
           <format>Collector</format>
       </data>
       <data source="gender">
           <label>Gender</label>
           <default>Unknown</default>
           <format> Male</format>
       </data>
   </group>
   <group>
       <header>4 Stars (

★★★★

)</header>
       <data source="level1">
           <label>Stats Lv 1</label>
           <format> 5  1 </format>
       </data>
       <data source="level2">
           <label>Stats Lv 2</label>
           <format> 6  1 </format>
       </data>
       <data source="level3">
           <label>Stats Lv 3</label>
           <format> 7  2 </format>
       </data>
       <data source="level4">
           <label>Stats Lv 4</label>
           <format> 8  2 (Gains Ability)</format>
       </data>
       <data source="level5">
           <label>Stats Lv 5</label>
           <format>    </format>
       </data>
   </group>
   <group>
       <header>Meta Info</header>
       <data source="released">
           <label>Released</label>
           <default>Unknown</default>
       </data>
       <data source="retired">
           <label>Retired</label>
       </data>
       <data source="artist">
           <label>Artist</label>
           <default>Unknown</default>
       </data>
   </group>

</infobox>
Background
Astonishingly it seems that Sylth's poison is even more lethal now than it was before his transformation. There was even a rumor going round that he could poison his opponent with a mere look. Of course it was all exaggerated, although not as much as you might think…
Missions
Release Your Poison: Win 80 rounds with Sylth
Advantages and Disadvantages
Advantages:
His base power is 8, which is good for a 4*.
His ability takes away three life from your opponent each turn, after it is activated.
The minimum for his poison ability is 1, which is very low.
He is good against damage reducers because of his Poison ability.
The clan bonus gives you two life back after you win with him.
His ability makes him a very good bluff, since your opponent will think you are planning to poison them.
​Disadvantages:
His base damage is 2, which is very low for a 4*.
He is weak against SOA, which leaves him with his low base damage, so he may have trouble facing GHEIST and Roots.
He has competition from the other 4* in Jungo.
He takes up a bit of room in your deck.
He is often banned from ELO because of his ability and stats.
Strategy & Tactics
Using
Countering
Trivia
He is based off of Kaa from the Jungle Book.
His addiction to apples is similar of that of Ryuk from Death Note.
His addiction to apples could also be based off of the Serpent from the Bible, who tempted Eve with an apple from the Garden of Eden.
Storyline-wise, he left Clint City to seek the Crystal Apple in a mysterious place called Los Santos (in which was then unknown until the release of the Huracan clan).
He and Florida Jane are the only non-Huracan members that have affiliations to the city of Los Santos.
Card Artwork
LV 3.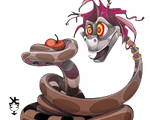 LV 4.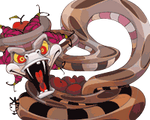 Full Artwork