This is an Italian guild on Urban Rivals.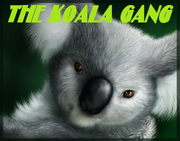 Description
<What The Koala Gang is? It's a happy guild, formed by skilled and new players, ready to have fun together and to help each other! We are first of all a family that focuses on respect and on reciprocal help among its members.
If there are no friendship and fun nothing else matters!> (translated by Italian)
History
I Founder: _X Dragon X_
II Founder: Erica bellaa
III Founder: KG_Enomis
Admins and Founders
Current Founder: KG_Enomis
Admins: 
Link to the Guild
Onto the guild's page you can find more information about it.