Background
When GraksmxxT left her to go on a secret mission just days before their marriage, TrinmkkT swore that she would find him and make him eat his own tentacles. She's finally found her ex, but claims she isn't upset with him anymore and is just interested in the teachings of the clan. Nevertheless, GraksmxxT is on his guard...
Advantages & Disadvantages
Advantages:
She has a Damage of 6 which is good.
Her ability reduces your opponent's Damage by 4, with a decent min of 3.
Her bonus removes 8 attack from your opponent.
Disadvantages:
She has a power of 6 which is somewhat low for a 4*.
She's a 4*, so she takes up room in your deck.
She has competition from the other 4* in Sakrohm.
Trivia
Card Artwork
LV 4.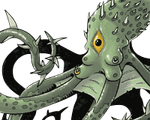 Full Artwork
Useful Links
Community content is available under
CC-BY-SA
unless otherwise noted.