Background
One evening while out watching the swallows flying in the sky above the Golden Mountain Monastery, the old Ninja master, Kurishen, saw a young woman emerge from the shadows and head towards him. It was Tsubame. Without a moment's hesitation, he immediately knew she would be the one to whom he would pass on his fighting skills.
Web comic
This card hasn't appeared in a web comic yet.
Missions
None at the moment.
Advantages and Disadvantages
Advantages:
7 damage is good for a 5*
Her ability means if she loses you get pillz back
Her bonus makes her 7/9 so she can 2 hit KO with any card in her clan just as long as they or she has her bonus
With Timber she can make a 1 hit KO if she furies
Disadvantages:
She is a 5* and can be hard to fit in an ELO deck
Her ability won't help her if she wins
She has to lose in order to get Pillz back
she is a rare card and can be hard to get in Packs
She is very Expensive
Tactics
Use Tsubame like you would high damage vortex, win with a card that opens up a 2HKO with Tsubame, but don't play too many pillz with that card, (piranas or Junkz or even Morphun can help) then Use all you pillz with Tsubame.
If your opponent has no SOA then:
A)You lose but get most of you pillz, back, which usually will hand you the pillz advantage, granting you to win the next turn with fury, and of course 2HKO
B) You win because the 2HKO is almost inevitable.
Trivia
Tsubame is the Japanese word for 'swallow' (which you see in her card art), while her teacher's name (kurishen) means 'shuriken', which is also the Fang Pi Clang's logo.
Card Artwork
LV 5.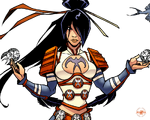 Full Artwork
From left to right, Level 2, Level 3, Level 4, Level 5: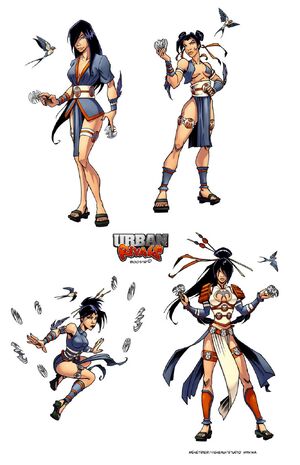 Useful links
Community content is available under
CC-BY-SA
unless otherwise noted.