Background
No farmer can hold a candle to Tuck when it comes to rearing chickens. And as a result of spending so much time around them, this old-time Roots guy has developed a real knack for understanding what the birds are saying. His best friend Rocky is a chicken who's always dreamed of becoming a pilot. So, the old farmer decided to grant him his wish by giving him a pair of flying goggles and acting as a runway for him...
Advantages & Disadvantages
Advantages:
His base power is 7, which is good for a 4*.
His ability removes 8 attack from your opponent, which helps in low-pill fights.
Disadvantages:
The minimum for his ability is 8, which is high, meaning that most of the time, in order to beat your opponent, you may have to use one pill or more.
He is a 4*, so he takes up room in your deck.
He has competition from the other 4* in Roots.
Trivia
His chicken's story is a nodd to the film, Chicken Run which also had a bird named Rocky and he could "fly".
Card Artwork
LV 3.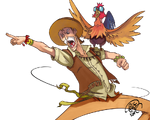 LV 4.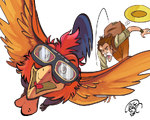 Full Artwork
Community content is available under
CC-BY-SA
unless otherwise noted.