Background
Valentina Ld has never been afraid of anything. When she joined the Clint City police force, she tried her best to make a difference but her colleagues' corruption cost her an eye and would have cost her her life if Copper, who'd had his eye on her for a while, hadn't intervened. So now she's putting all her energy into serving the Sentinel clan and can finally Protect and Serve!
Mission
"The Lone Righter of Wrongs"- Inflict 60 Damages with Valentina Ld (28/09/2012 - 02/12/2012)
Advantages & Disadvantages
Advantages:
Her base power is 7, which is good for a 3*.
Her ability gives her two damage if you've lost in the previous round, which changes her stats to a potential 7/6.
If you fury with her, her damage turns to 8, making her a potential 7/8.
SOA doesn't really bother her much.
The clan bonus gives her an extra 8 attack, which helps in low-pill fights.
Disadvantages:
Her ability is Revenge, meaning you must lose first for her ability to activate.
She has competition from the other 3* in Sentinel.
Trivia
Valentina 's name comes from Jill Valentine from the Resident Evil series.
In the game's cannon, her and Katja have been made partners. This has even been mentioned in two of Valentina's returns.
Until June 27, 2017, his old ability was (Killshot: -2 Opp. Life, Min 0)
Card Artwork
LV 1.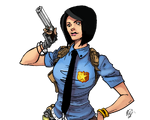 LV 2.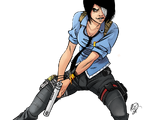 LV 3.
Full Artwork
Community content is available under
CC-BY-SA
unless otherwise noted.