<format> Montana</format>
       </data>
       <data source="ability">
           <label> Ability</label>
           <default>Unknown</default>
       </data>
       <data source="bonus">
           <label> Bonus</label>
           <default>-12 Opp. Attack, Min. 8</default>
       </data>
       <data source="rarity">
           <label>Rarity</label>
           <default>Unknown</default>
           <format>Rare, Collector</format>
       </data>
       <data source="gender">
           <label>Gender</label>
           <default>Unknown</default>
           <format> Female</format>
       </data>
   </group>
   <group>
       <header>5 Stars (

★★★★★

)</header>
       <data source="level1">
           <label>Stats Lv 1</label>
           <format>    </format>
       </data>
       <data source="level2">
           <label>Stats Lv 2</label>
           <format> 2  4 </format>
       </data>
       <data source="level3">
           <label>Stats Lv 3</label>
           <format> 7  4 (Gains Ability)</format>
       </data>
       <data source="level4">
           <label>Stats Lv 4</label>
           <format> 7  6 </format>
       </data>
       <data source="level5">
           <label>Stats Lv 5</label>
           <format> 7  8 </format>
       </data>
   </group>
   <group>
       <header>Meta Info</header>
       <data source="released">
           <label>Released</label>
           <default>Unknown</default>
       </data>
       <data source="retired">
           <label>Retired</label>
       </data>
       <data source="artist">
           <label>Artist</label>
           <default>Unknown</default>
       </data>
   </group>

</infobox>
Background
Neither her diplomas nor her skills as a fighter justify Vickie's position in the Montana family. However, when you find out she's the Don's mother's niece's second cousin by marriage's god-daughter, it all becomes clearer. Ambitious, young Vickie wants to prove that a young woman can have what it takes to be a big shot.
Advantages & Disadvantages
Advantages:
Her base power is 7, which is good for a 5*.
Her base damage is 8, which is also good.
Her ability cancels an opposing card's bonus, which helps makes fights with her easier.
She gains her ability at level three and her base power is high at that level, so she is useful then.
Her base damage makes her a good bluff against your opponent.
The clan bonus takes away 12 attack from your opponent, which helps in low-pill fights.
Disadvantages:
Because of her stats and ability, she is permanently ELO-banned.
Her ability is ineffective against: GHEIST, Roots, Skeelz and cards with the ability, Protection: Bonus.
She is a Cr, so she is very expensive.
She is a 5*, so she takes up a lot of room in your deck.
She has competition from the other 5* in Montana.
Trivia
Her second pic is a reference to the infamous horse head scene in the first Godfather movie.
Her relations with the Don can be simplified to possibly being his daughter.
Her artwork was changed, but it was changed back due to complaints from players.
The old (current) images are ontop, the new (removed) ones are below.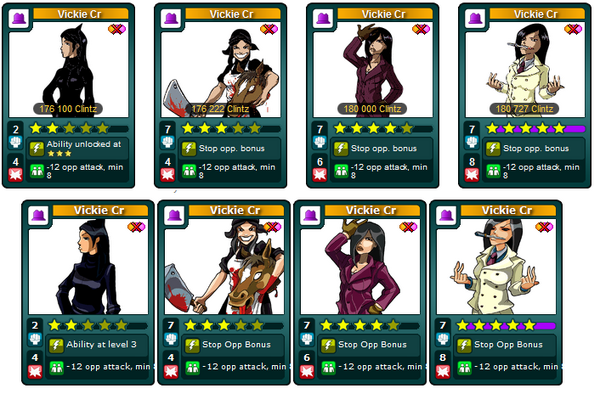 Card Artwork
Full Artwork