Background
The career of the individual nicknamed the Butcher of Balgenheim by the press should have come to an end the night of his execution, but that was forgetting the powers of the Nightmare clan. Having now returned from the dead, Vince is in fighting form and eager to get back to the city's streets...
Missions
Trick and Treat: Win 20 fights by finishing with a knock-out from Vince (17/02/2012 - 18/03/2012)
Advantages & Disadvantages
Advantages:
Disadvantages:
Trivia
Vince is based off of Fritz Haarmann: The Butcher of Hannover. Both were brutal serial killers with similar titles who were executed when finally caught.
His name is based off of Vincent Price, an old horror movie actor.
His mision's name comes from the phrase said, during Trick or Treating on Halloween.
Card Artwork
LV 5.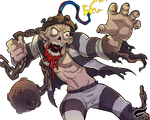 Full Artwork
External links
Community content is available under
CC-BY-SA
unless otherwise noted.