Background
By day Wayne Stark is a relatively run-of-the-mill millionaire. But by night he is transformed into Super Clintz Man - the Super Hero at the beck and call of the rich, their businesses and shareholders. With his amazing armor and ultramodern weapons, he can break up a demonstration in the twinkling of an eye, get strikers back to work and knock sense into an overly conscientious judge. Thanks, Super Clintz Man!
Missions
Celebrity Guest III: Inflict 50 Damages with Wayne Stark (04/03/2011 - 10/04/2011)
Advantages & Disadvantages
Advantages:
His power is 7, which is good.
His damage is 5, and becomes 7 with fury, allowing you to 2HKO.
His bonus removes 10 attack from your opponent, making it easier to win the round.
His ability protects his bonus, making Nightmare and Piranhas ineffective against him.
Disadvantages:
His ability doesn't help him win the round.
He's a 4 star, so he takes up room in your deck.
Trivia
Card Artwork
LV 4.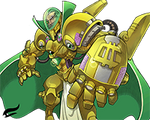 Full Artwork
External links
Community content is available under
CC-BY-SA
unless otherwise noted.