Background
The famous funk singer of the 80s has returned to Clint City and naturally chooses to join the Bangers. In spite of his undeniable talent, Willy is a laughing stock because of his extremely "original" outfits, but nothing will make him give up his funky, old school style.
Web comic
This card hasn't appeared in a web comic yet.
Missions
Yeah, Yeah, Yeah: Inflict 250 Damages with Willy
Advantages and Disadvantages of the card
Advantages:
His ability increases his power by 4 if he is played first in a round.
His clan bonus increases his power by 2.
He has 7 damage, which is very good for a 5* card. It also helps to 2HKO the opponent with a few other Bangers.
SoA doesn't weaken him much, since his bonus still gives him an additional power.
He doesn't rely heavily on his bonus.
Disadvantages:
When facing all-stops, he is left with 5 power, is not that good for a 5*.
He is a 5* and can't fit into a T1 deck easily.
He is rare, so he can't be found easily in a pack.
He is often very expensive on the market.
His ability is Courage, so he must be played first.
Trivia
Willy's appearance (especially the last two pics on his card) is based off of funk guitarist, Bootsy Collins.
His outfits in his last 2 forms look like something Don Kanonji would wear.
His third form might be a nod to the famous guitarist, Jimi Hendrix.
Card Artwork
LV 5.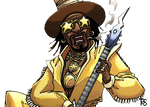 Full Artwork
Useful links