Background
If she'd listened to her father Major Klimpt , Winifred would have become a nice housewife. But the Klimpts have been soldiers for generations. Unable to go against her army genes, Winnie defies her father's wishes and enlists in the La Junta so she can fight and keep family traditions alive and kicking.
Missions
Advantages & Disadvantages
Advantages:
Disadvantages:
Trivia
Her background story is very similar to that of the old Danish film "Kvinder I Trøjen". Both Winifred and the main character went into the army to keep a family tradition alive.
On June 21, 2018, it is revealed that she has a sister named Matilda.
Card Artwork
LV 4.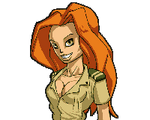 Full Artwork