Background
To make up for the departure of the other band members from the Balgenheim fanfare, Wolfgang had to learn to play several instruments at once. This unique talent got Boris interested and he made a special trip to Wolfgang's home town to offer him the contract of a lifetime.
Web comic
This card hasn't appeared in a web comic yet.
Missions
None at the moment.
Trivia
Advantages and Disadvantages of the card
Advantages:
7 power is great for a 4*.
He has a high damage reduction of 4 with a low minimum of 2.
He has 4 damage which is good for a Freaks.
Freaks' poison helps with damage.
Usable at level 3, for damage reduction only.
Disadvantages:
He is a 4* so he is roomy in a deck.
Tactics
Card Artwork
LV 4.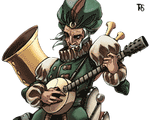 Full Artwork
LV 4.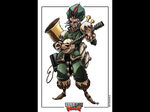 Useful links
Community content is available under
CC-BY-SA
unless otherwise noted.