Background
On the planet Vronk, there are no crazy people and therefore no psychiatrists. So when WoodXsxt got ill, it was decided that he should be sent "to be treated with the other crazies" on Earth. Officially he's there on a diplomatic mission with the Sakrohm, but it's possible that even they might end up finding him slightly odd...
Advantages & Disadvantages
Advantages:
His bonus reduces the opponent's attack by 8, which helps in low pill fights and can compensate for his somewhat low power.
With his ability you can stop the opponent's bonus, which can be very helpful.
Disadvantages:
His power is 6, which is somewhat mediocre with nothing significant to back it up.
His ability is Courage-based, meaning you only have two chances to activate it during a game and it's predictable.
His base damage is 3, which is a bit low.
SOB can really injure your chances of winning with him.
Trivia
WoodXsxt hails from the same planet as GraksmxxT Cr, SkrumxxT, and Trinmkkt, hence the unusual name.
He and fellow Sakrohm Lunatik are similar in many ways. Both are insane, both are 2 stars and both don straight jackets in their first forms.
Card Artwork
Full Artwork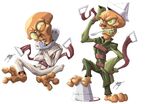 Community content is available under
CC-BY-SA
unless otherwise noted.