Background
As the beta model of a new series of killer glass creatures, X-0DUS has just one mission programmed into his memory: to exterminate the human who goes by the name of Lena so as to prevent the dark Prophecy from coming true. Since his creation, he's been tirelessly hunting her down and all the Pussycats in the world won't stop him, even if he does have to sacrifice a few spare parts along the way.
Advantages & Disadvantages
Advantages:
His base power is 7, which is good for a 4*.
His base damage is 6, which is also good.
His ability cancels out an opposing card's ability, which makes fights with him easier.
The clan bonus gives you 2/3 pillz back if you lose with him.
He can make for a great counter to reprisal-focused decks containing Ashigaru since you will always get his ability to activate due to Ashigaru's ability.
Disadvantages:
His ability only works if you play him first in a round, meaning you only have two chances to use it.
He has competition from the other 4* in Vortex.
He is 4*, so he takes up some room in your deck.
Strategy
Trivia
X-0DUS is a nod to the Terminator, a robotic-like creature that comes from the future to destroy a single woman who will ruin his kind's future.
His name is a play on the word, Exodus, meaning the exiting or departure of a person and/or party (and also one of the books in the Bible).
If you look at the full picture from his first level form, you can see that the robot torso he has his foot on is Zdrone.
Card Artwork
LV 4.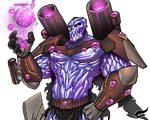 Full Artwork
Community content is available under
CC-BY-SA
unless otherwise noted.